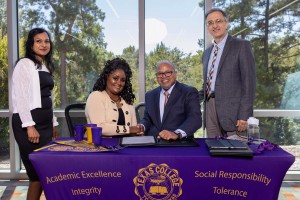 On Wednesday, August 16, The University of Texas at Tyler School of Medicine, in collaboration with Texas College and seven other local colleges and universities, gathered for the Early Assurance Program Signing Day.
"This is a significant milestone for UT Tyler School of Medicine and our partnering colleges," said President Kirk A. Calhoun, MD, FACP (UT Tyler). "The Pathways program reflects our commitment to recruiting local talent and promoting excellence in medical education. Through this program, we are creating a pathway for East Texas students to pursue a career in medicine."
The early assurance program, known as "Pathways to Medicine," will prepare 40 students each year from local colleges and universities for a successful career in the medical field by providing clinical exposure and developing necessary study skills for medical school. Up to 15 will be admitted into the School of Medicine.
The eight partnering institutions include:
East Texas Baptist University
Jarvis Christian University
LeTourneau University
Stephen F. Austin State University
Texas College
Texas A&M University – Texarkana
The University of Texas at Tyler
Wiley College
President Dwight J. Fennell (Texas College), stated that "The Pathways to Medicine initiative enhances the growth and viability of career options for our students with hands-on exposure. For Texas College, the opportunity for students to enter pathways creates a more realistic exposure through collaboration. Further, it is epic for eight institutions to work towards a common purpose and strategic direction for the benefit of those we educate."
The Pathways program encompasses a 1–2-year curriculum for junior and senior years. Program activities include professional development, speakers and panel discussions, standardized test prep, including MCAT, volunteering and physician shadowing. Participants undergo the same rigorous admissions process and interviews as other prospective students, and their selection is based on a holistic evaluation of their qualifications.
"With a strong emphasis on community engagement and preventive care, the Early Assurance program will encourage and support greater numbers of students interested in medicine," said Dr. Gisele Armond Abron, associate dean of admissions (UT Tyler School of Medicine). "This initiative is not only shaping the future of health care but also ensuring that our region welcomes more dedicated and competent physicians."
If you attend a participating institution and are interested in enrolling in the Pathways program, email sompathways@uttyler.edu to obtain contact information for your institution's early assurance program designee.