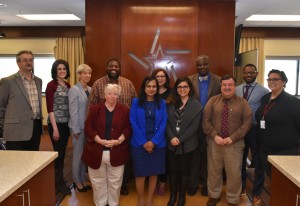 In late October, Texas College signed a memorandum of understanding with the UT Health Science Center at Tyler, which created the UT Health/Texas College Pre-Health Academy. The Pre-Health Academy will provide students seeking advanced degrees in health-related careers (e.g., medicine, public health, dentistry, pharmacy, physical therapy, sports medicine, etc.) with a pathway to prepare for further study. Students will be afforded opportunities to gain exposure to the breadth and depth of various health-related fields through research, experiential learning, job shadowing, volunteerism and clinical experiences. The Academy will also assist with MCAT and GRE test preparation to ensure quality scores. Students will have structured opportunities to:
1) Link theory and practice through clinical experience and research.
2) Explore the depth and breadth of various health-related disciplines.
3) Receive guidance and support through mentorship.
---