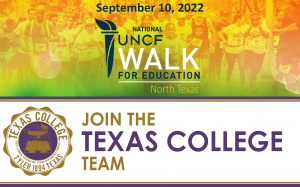 Texas College is pleased to invite you to join the College's team for the 2022 UNCF Walk for Education. This nationwide initiative aims to raise the critical funds necessary for UNCF to fulfill their mission of supporting Texas College and the 36 other member HBCUs. Your participation will help to provide the necessary support for Texas College, as well as our deserving students as they pursue their educational dreams. With your support and generous gift, you help to make education accessible for all, despite the financial barriers that students may face.
Scheduled for Saturday, September 10, 2022, UNCF will host two in-person Walks in Texas:
Dallas/North Texas Walk
7:00 A.M - 11:00 A.M.│Lake Cliff Park │300 E. Colorado Blvd.│Dallas, TX 75201│Click here to learn more
Houston/South Texas Walk
7:00 A.M - 12:00 P.M.│Tom Bass Park Section 1│3452 Fellows Rd.│Pearland, TX 77047│Click here to learn more
However, there are over 30 in-person Walks throughout the nation. To view all of the UNCF Walk for Education locations and dates, click here.
Whether you physically participate in the Walk or not, your financial support and participation on the Texas College team is still paramount. Thus, you are encouraged to join the Texas College team and make a generous donation to UNCF, as well as share this initiative with others for participation. To join the Texas College team, see the purple clickable button below or visit: http://give.uncf.org/goto/texascollege . To learn more about UNCF's Walk for Education, click here.
Thank you for your continued support of Texas College and UNCF!