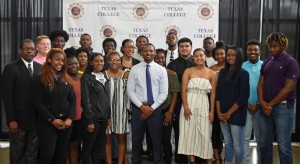 On Saturday, September 22nd, 25 students braved a rainy morning to participate in the inaugural Emerging Leadership Forum on the Texas College Campus. The forum officially kicked off the Emerging Leaders Program, which is designed to build leadership skills and inspire students to get involved in the organizations and causes they are passionate about on campus, the Tyler community and beyond.
The keynote speaker for 2018's forum was Dr. Kent L. Willis. Willis is an educator, coach and mentor currently serving as Associate Provost for Institutional Effectiveness at The University of Texas Health Science Center at Tyler. He is also active in the community and an alumnus of Leadership Tyler Class 31. With experience in secondary and post-secondary education, his research interests include college and career readiness, as well as school-based health promotion and education policy. Actively involved in research and scholarship, he serves as a reviewer for academic journals published by the National Council of Professors of Educational Administration (NCPEA) and the Collaborative Educational Programs for the Americas (CEPA).
Dr. Willis encouraged the student leaders to become the difference they want to see in the world. He reminded them that leadership is not an easy task and that they must align themselves with people who continually strive for excellence. The students were also allowed to ask Dr. Willis questions and seek advice on how to become more effective and efficient leaders.
---