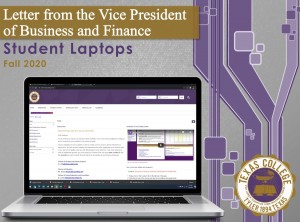 Letter from the Vice President of Business and Finance - Student Laptops
To view or download this letter in a PDF format, click here.
Dear Student,
Beginning with the fall 2020 semester, Texas College is providing students with laptops. Students who are in need of a laptop or who are interested in using a laptop are encouraged to complete the attached Laptop Loan Agreement form and return it to the Business Office. To meet the needs and expectations of all of our students, we are asking that the form be completed and returned to the Business Office as quickly as possible. Once the form has been received, the Business Office will begin processing requests for laptops.
The Laptop Loan Agreement form may also be accessed directly from our website. Questions regarding the use of a laptop and the laptop loan agreement form may be directed to the following email address: BusinessOffice@texascollege.edu.
Once again, the Business Office looks forward to working with you during the upcoming fall 2020 semester.
Best Wishes,
Ms. Millicent L Rickenbacker, MBA
VP of Business and Finance
Laptop Loan Agreement Form
Please click here to download the Laptop Loan Agreement form.