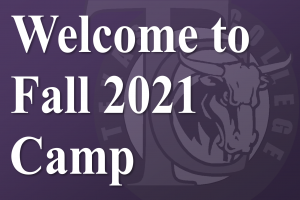 August 9, 2021
Dear Student-Athletes, Parents, and Guardians:
The Texas College athletic coaches and staff express our gratitude for your tenacity in staying committed to your academic studies and your athletic passions during the extreme challenges caused by the global pandemic.
The pandemic has created a new normal for us all. It is imperative for us to follow the suggested national and state safety guidelines as we, the Texas College family, moves forward. Summer Session I and II, along with our strength and conditioning programs, were extremely successful; it is good to see our student-athletes excel academically and athletically. So many of our student-athletes have bought into the rebuilding process of the athletic program.
As I conclude, I cannot help but reflect on 127 years ago when a group of CME ministers recognized an educational gap. The CME ministers recognized the need to close this gap so that a disenfranchised group of people could enter the workforce and be competitive. Their solution to bridging this educational gap was to start an institution of higher learning in 1894–that institution was Texas College.
Today, we have an athletic gap that needs to be bridged. We were unable to compete in any of our sports during the 2020 -2021 season; however, some of our competitors did compete. With that said, they are ahead of us, and closing that gap starts with you.
When it comes to Texas College Athletics, it is a new day, and it starts with you.
Once again, welcome back.
"Let's Get It Steers"
Sincerely,
Greg Ellis
Athletic Director