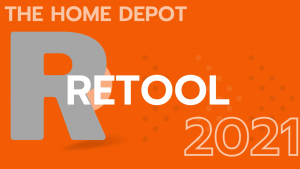 The Home Depot Retool Your School Grant Program is back for 2021! This year, to deepen its commitment to HBCUs, The Home Depot is increasing support by investing $1 million in campus improvement grants across 30 schools. 2021's competition will award 30 different campus improvement grants, 10 awards per cluster (cluster based on enrollment size), ranging between $20,000 - $75,000. These awards will be based on consumer voting.
Voting will take place as it has in recent previous years, via the competition's website and the social media platforms Twitter and Instagram by inclusion of the College's unique hashtag on tweets/posts. The cumulative number of votes received, both from online and social media, will determine the College's ranking. As noted, this year's competition will award the top 10 institutions in each cluster. Historically, Texas College has ranked within the top 10, but still needs your help to ensure a win this year!
Noting previous year's winning vote totals of approximately 500,00 votes, a goal of 600,000 cumulative votes has been set to ensure Texas College's success for 2021's competition. Though this year's voting period is reduced to approximately one month (29 days), this goal is achievable, especially given that votes are unlimited. Broken down, if 100 people cast 207 votes every day of the voting period, 600,300 votes will be secured. Voting begins Monday, February 15, 2021,and ends on Monday, March 15, 2021. Working in close collaboration with the Texas College National Alumni Association (TCNAA), the College and TCNAA both remain committed to winning 2021's competition.
Texas College is already registered for the competition and excited to participate. The College will provide the voting webpage, Texas College's unique hashtag for social media, and additional important information as soon as released. To learn more about The Home Depot Retool Your School Grant Program, please visit retoolyourschool.com. Should you have any questions regarding the Retool Your School competition, please contact:
Jake Martin, Chief Marketing & Communications Officer: (903) 593-8311, ext. 2327 │jmartin@texascollege.edu
Remember, Texas College is in Cluster 3.