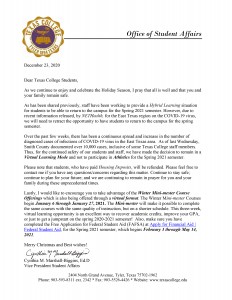 December 23, 2020
Dear Texas College Students,
As we continue to enjoy and celebrate the Holiday Season, I pray that all is well and that you and your family remain safe.
As has been shared previously, staff have been working to provide a Hybrid Learning situation for students to be able to return to the campus for the Spring 2021 semester. However, due to recent information released, by NETHealth, for the East Texas region on the COVID-19 virus, we will need to retract the opportunity to have students to return to the campus for the spring semester.
Over the past few weeks, there has been a continuous spread and increase in the number of diagnosed cases of infections of COVID-19 virus in the East Texas area. As of last Wednesday, Smith County documented over 10,000 cases, inclusive of some Texas College staff members. Thus, for the continued safety of our students and staff, we have made the decision to remain in a Virtual Learning Mode and not to participate in Athletics for the Spring 2021 semester.
Please note that students, who have paid Housing Deposits, will be refunded. Please feel free to contact me if you have any questions/concerns regarding this matter. Continue to stay safe; continue to plan for your future; and we are continuing to remain in prayer for you and your family during these unprecedented times.
Lastly, I would like to encourage you to take advantage of the Winter Mini-mester Course Offerings which is also being offered through a virtual format. The Winter Mini-mester Courses begin January 6 through January 27, 2021. The Mini-mester will make it possible to complete the same courses with the same quality of instruction, but on a shorter schedule. This three-week, virtual learning opportunity is an excellent way to recover academic credits, improve your GPA, or just to get a jumpstart on the spring 2020-2021 semester! Also, make sure you have completed the Free Application for Federal Student Aid (FAFSA) at Apply for Financial Aid | Federal Student Aid, for the Spring 2021 semester, which begins February 3 through May 14, 2021.
Merry Christmas and Best wishes!
Cynthia M. Marshall-Biggins, Ed.D
Vice President Student Affairs