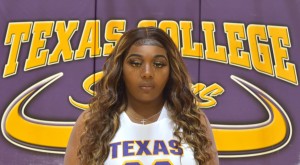 Congratulations to Texas College's Te'Aire Hambrick, sophomore, on being named the Red River Athletic Conference (RRAC) Women's Hoops Player of the Week for the week of November 14-20, 2022!
Hambrick poured in 26 points and hauled in nine rebounds in the Steers' 76-64 victory over Dallas Christian College. The sophomore guard connected on 10-of-16 field goal attempts, including five three-pointers. Hambrick ranks seventh in the RRAC with 15.2 points per game. Texas College climbed to 3-2 overall.

Additional RRAC women's basketball nominees: Nia Bishop (Xavier), Sierra Smith (Southwest).