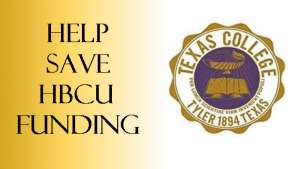 Mandatory funding for HBCUs has expired due to the Senate failing to pass the FUTURE Act, a bill passed by the U.S. House of Representatives on September 17, 2019, but the fight does not stop here! We must continue to put pressue on the Senate to pass the FUTURE Act now!
If you helped us by writing your senators before, do it again. Then, tell every friend you must do the same!
HBCUs need you to:
1. Go to www.uncf.org/protectingourfuture
2. Click "Write your Senator"
3. Fill out the blank fields & click "Next"
4. Click "Submit"
This pressure is the ONLY way given the current environment. We all need to STAND WITH HBCUs now more than ever! There is strength in numbers! Please let your family, friends and community know how important this issue is by posting and sharing our messages on social media:
It is that easy to protect $85 million per year for HBCUs...and to protect our FUTURE! Together, we can make a difference!
Thank you for your support!