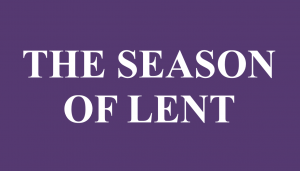 On the Christian calendar, Wednesday, March 2, 2022, is Ash Wednesday which marks the beginning of the Lenten Season. Ash Wednesday is a solemn day typically marked by the application of ashes in the form of a cross on the forehead. This act, performed by a clergy, is accompanied by the words, "Dust you are, and dust you shall return". It comes as a reminder to humanity of our sinful state and mortality. Additionally, we are reminded of our need to confess and repent of our sins.
The Season of Lent is when Christians embark upon a reflective journey to the grueling, sacrificial act of Jesus Christ on the Cross. The 40 days of Lent (excluding Sundays) is a time for us to engage in intense self-reflection and penitence. We confess that we have sinned and fallen short of the glory of God (Romans 3:23). As Christians who understand the importance of doing so, we are moved towards repentance and exhibition of signs revealing our sincerity to pursue holiness. I Peter 1:15-16 states, "15 But now you must be holy in everything you do, just as God who chose you is holy. 16 For the Scriptures say, "You must be holy because I am holy." Therefore, during this time, we are strongly encouraged to fast, pray, study the Word of God and engage in charitable acts.
Our prayer during Lent should reflect the words of the hymn writer who wrote, "Create in me a clean heart, O God, and renew a right spirit within me. Cast me not away from your presence; and take not your Holy Spirit from me. Restore unto me the joy of your salvation; and uphold me with your free Spirit." The foci of these words are confession of sin, dependence on God and a desire for spiritual renewal. Indeed, the Season of Lent aids us in refocusing our lives and providing an opportunity to renew our commitment, faith and hope.
As we embark upon this journey to Calvary, let us pray: Gracious and Merciful Lord, our God, we bow before You in adoration of Your amazing glory. We give You hearty thanks for the abundant blessings which You have bestowed upon each of us. We admit that we are not worthy. We confess our sins and ask that You continue to extend Your endless mercy towards us. Allow us to feel the power of Your Presence and warmth of Your incomparable love. As we begin our journey to Calvary, touch our entire beings in such a way that we are cognizant of the rich blessings released upon us through the sacrifice of our Lord and Savior, Jesus the Christ. May Your Holy Spirit be stirred within each of us and guide as we journey towards refocusing our lives and renewing our commitment, faith and hope. In the name of Jesus, the Christ, we pray, AMEN.
Below you will find daily scriptures for the remainder of this Lenten Season: March 2 – March 15 (Confessing Our Sin), March 16 – March 27 (Forgiven and Cleansed of Our Sins, March 28 – April 4 (Forgiving Others), April 5 – April 9 (The Suffering of the Messiah Foretold), April 10 – April 16 (The Crucifixion of Jesus) and April 17 (The Resurrection of Jesus).
Confessing Our Sins
March 2, 2022 – Psalm 51:1-4
March 3, 2022 – James 4:7-8
March 4, 2022 – Isaiah 1:10-13
March 5, 2022 – Isaiah 6:5-6
March 6, 2022 – Psalm 32:1-5
March 7, 2022 – Romans 3:23-24
March 8, 2022 – I John 1:8-10
March 9, 2022 – Romans 7:14-19
March 10, 2022 – Romans 2:1-5
March 11, 2022 – Daniel 2:3-6
March 12, 2022 – I Corinthians 6:9-11
March 13, 2022 – Luke 13:1-5
March 14, 2022 – 2 Chronicles 7:11-14
March 15, 2022 – Romans 10:8-13
Forgiven and Cleansed of Our Sins
March 16, 2022 – John 3:16-17
March 17, 2022 – Hebrews 9:13-15
March 18. 2022 – Colossians 1:13-14
March 19, 2022 – Psalm 32:5-7
March 20, 2022 – I John 1:5-10
March 21, 2022 – Psalm 103:8-12
March 22, 2022 – Psalm 51:7-11
March 23, 2022 – Isaiah 1:16-18
March 24, 2022 – Hebrews 10:15-18
March 25, 2022 – Philippians 2:1-11
March 26, 2022 – I Corinthians 15:16-19
March 27, 2022 – 2 Corinthians 5:19-21
Forgiving Others
March 28, 2022 – Colossians 3:12-15
March 29, 2022 – Matthew 18:21-22
March 30, 2022 – Proverbs 10:11-12
March 31, 2022 – I John 4:7-16
April 1, 2022 – Matthew 6:14-15
April 2, 2022 – Luke 6:27-36
April 3, 2022 – Ephesians 4:31-32
April 4, 2022 – James 5:14-16
The Suffering of Jesus Foretold
April 5, 2022 – Isaiah 53:1-11
April 6, 2022 – John 1:6-15
April 7, 2022 – Psalm 22:1-8
April 8, 2022 – Matthew 20:17-19
April 9, 2022 – Luke 19:28-40
The Crucifixion of Jesus
April 10, 2022 – Matthew 26:1-13
April 11, 2022 – Luke 22:1-5
April 12, 2022 – Luke 22:7-28
April 13, 2022 – Mark 14:43-52, Matthew 26:36-46
April 14, 2022 – Mark 15:21-32
April 15, 2022 – John 19:28-37
April 16, 2022 – John 19:38-40
The Resurrection of Jesus
April 17, 2022 – Matthew 28:1-15
With Humilty and Love,
Rev. Dr. Jamie L. Capers
Campus Minister