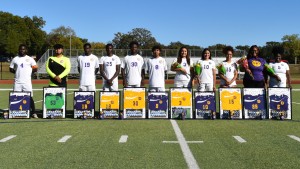 On Saturday, November 5, Texas College Men's and Women's Soccer celebrated 11 seniors as they donned their Texas College jerseys one final time. To commemorate the occasion, a brief ceremony was held prior to the game, in which they were presented one of their game jerseys, as well as other items, and a final walk through the "tunnel."
Texas College Senior Soccer Players:
Men:
Guillermo Cisneros (GK)
Yoppe Kalasa
Emmanuel Rafiki
Officier Ramadhani
Abdulsamad Bello
Sean Chagolla
Women:
Ciera Omotosho
Nohemi Rosalez
Danye Kight
Hillary Ramirez
Shatoya Delvalle
To view photos from the event, click the purple button below.