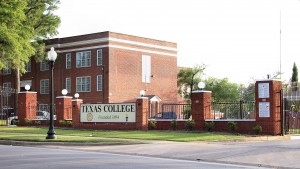 Texas College has entered into a partnership with Southside Bank of Tyler. The partnership will afford opportunities for Texas College students to complete internships within the Southside Bank facilities.
Southside Bank will provide students with an opportunity to participate in a five-month Leadership Academy. The Academy is designed to develop students' understanding of the various roles in the banking industry, enhance their leadership skills and deepen their professional work experience. Additionally, students will attend educational sessions and interact with key departments. Topics of the leadership sessions will include: developing the talents of others, managing disagreements, coaching for success, empowering people, promoting teamwork, and communicating in the workplace.
In keeping with the Texas College mission, Business Administration majors with a minimum GPA of 3.0 will advance their oral and written communication abilities, critical thinking and technology skills, and career placement dimensions. Participation in the Leadership Academy, as well as in the other prospective internships we offer, will afford students the opportunity to apply their knowledge and put theory into practice. Texas College is committed to ensuring students graduate with essential academic and career-centered "power skills" to help them compete and excel in the global marketplace.