FEBRUARY 2021 NEWS & UPDATES
Texas College Celebrates 127 Years
January 9, 2021, signified a momentous occasion in the life of Texas College – the 127th Anniversary of the Historically Black College's founding. Founded in 1894 by a group of CME ministers to educate a disenfranchised population, Texas College has served as a beacon of hope and opportunity for the East Texas region and beyond, providing educational opportunities for the past 127 years. In celebration of the occasion, please click below for a brief historical overview of Texas College.
A formal commemoration of Texas College's founding will be held virtually on Wednesday, February 17, 2021, during the annual Founders' Convocation.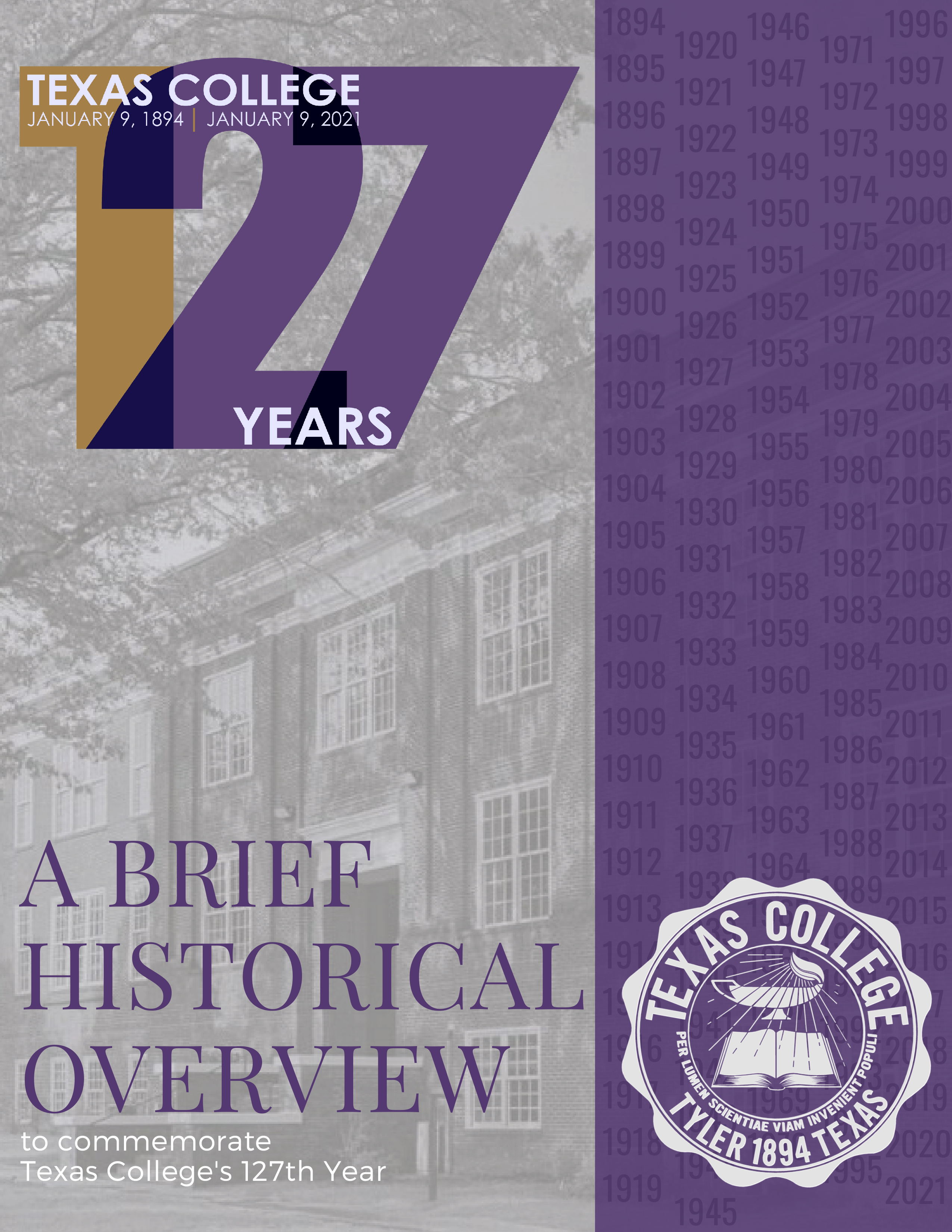 Founders' Convocation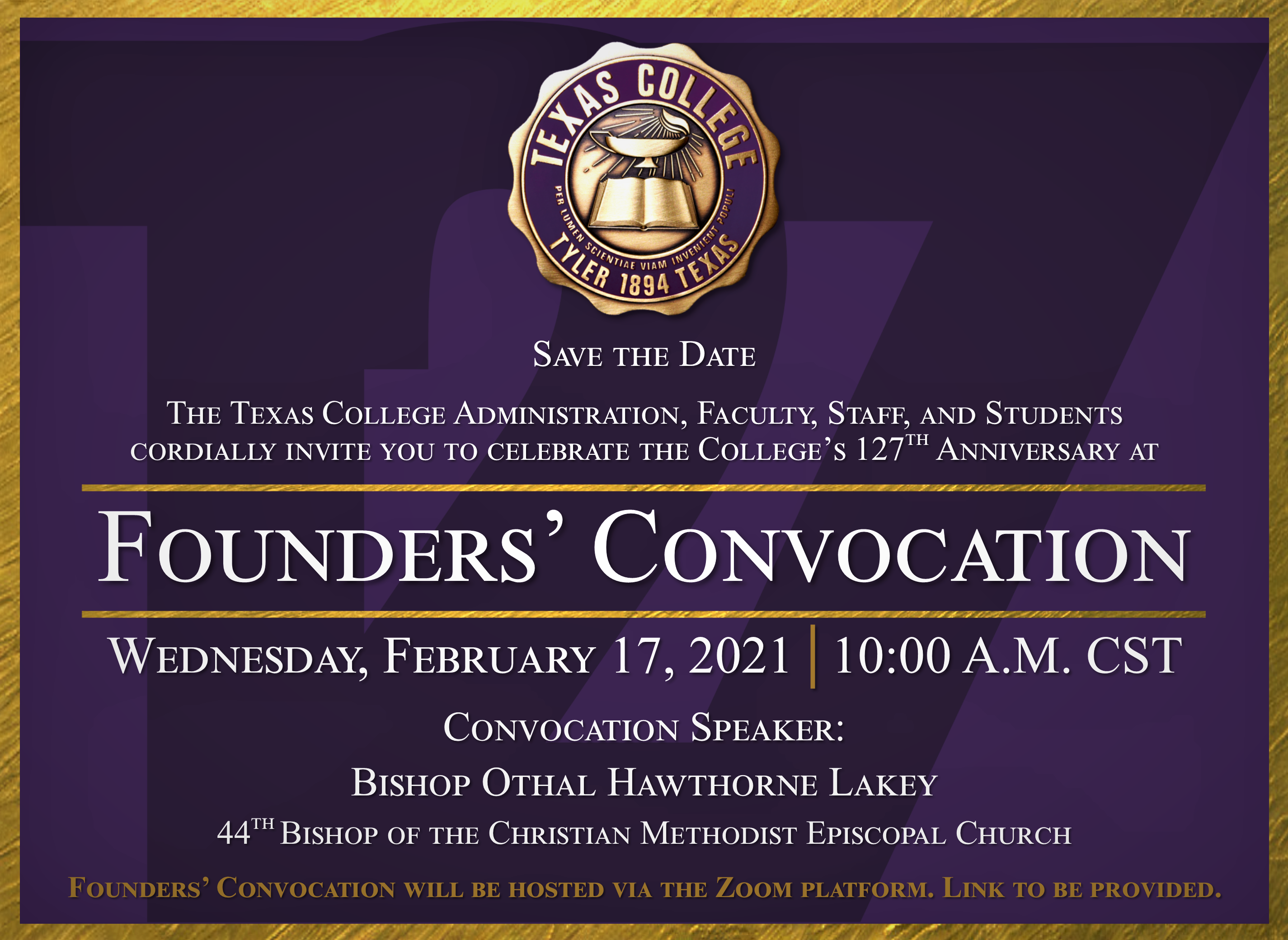 The annual Founders' Convocation is scheduled virtually for Wednesday, February 17, 2021, at 10:00 A.M. CST to formally commemorate the College's founding. The convocation's speaker will be Bishop Othal Hawthorne Lakey, 44th Bishop of the Christian Methodist Episcopal Church. Founders' Convocation will be hosted via the Zoom platform. Zoom link will be provided under separate cover.
Homecoming 2020 Campaign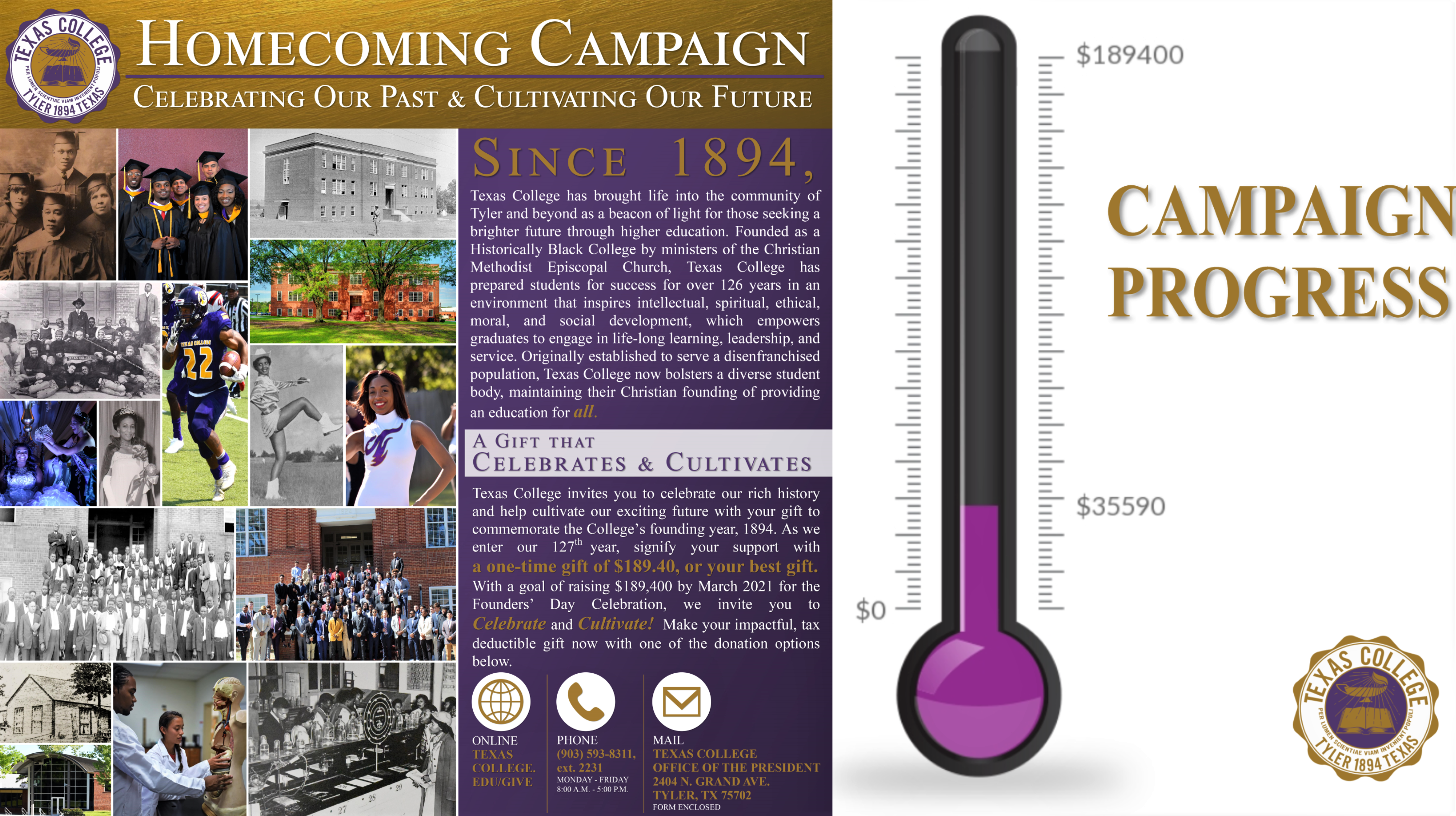 The Texas College Homecoming 2020 fundraising campaign is still active! Commemorating the College's founding year of 1894, the campaign's goal is set for $189,400 by March 2021. See the graphic above for the campaign's progress. To continue progress toward the $189,400 goal, Texas College invites you to celebrate their rich history and cultivate their exciting future by signifying your support with a one-time gift of $189.40, or your best gift. Please click the respective button below to view the campaign's webpage and progress, or to give now!
GIVE NOW GIVING FORM VIEW PDF CAMPAIGN WEBPAGE
Texas College Partners with Propel Center, a New Global HBCU Headquarters for Innovation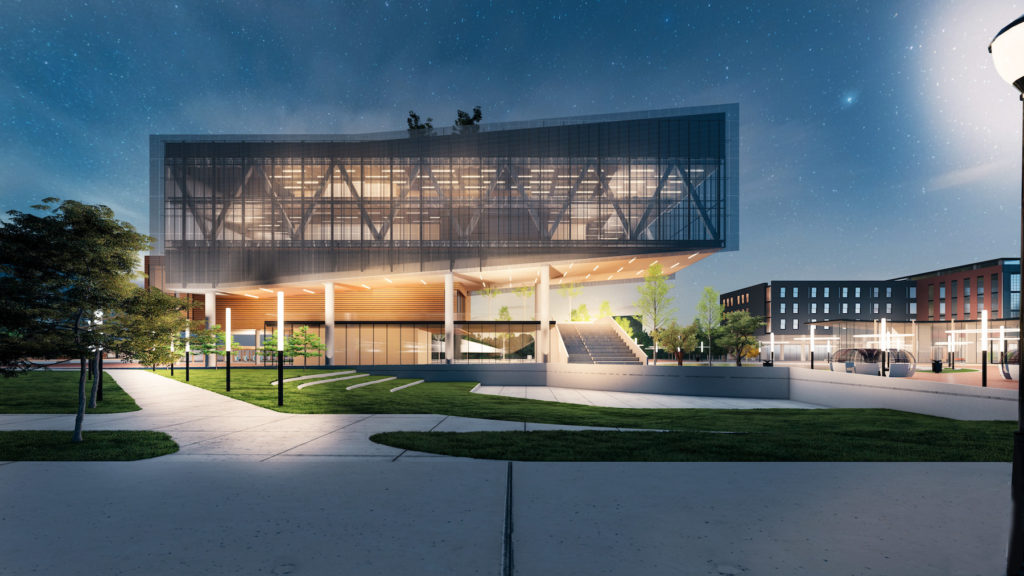 Propel Center rendering
Texas College Partners with Propel Center, a New Global HBCU Headquarters for Innovation
Propel Center will provide students and faculty with world-class skills and leadership development opportunities through virtual and in-person instruction
Texas College is proud to announce its partnership with Propel Center, a new global campus headquartered in Atlanta that will support innovative learning and development for Historically Black Colleges and Universities (HBCUs) nationwide. Texas College will collaborate with Propel Center and the entire HBCU community to bring leadership and career development programming to its students. The partnership's focus closely aligns with Texas College's mission of empowering graduates to engage in life-long learning, leadership, and service.
Propel Center was imagined and designed by Ed Farm, a nonprofit dedicated to advancing education through technology — with Apple and Southern Company supporting the project as founding partners. The Propel Center is designed to connect HBCU students to technology curriculum, cultural thought leaders, entrepreneurship skills development, and accelerator programs, with a focus on social justice and equity.
The first-of-its-kind initiative will serve as a hub for all 100+ HBCUs, and is designed to connect students and faculty from across the community and provide them with the knowledge, skills, tools, and resources necessary to transform our nation's talent pipeline and workforce. Curriculum options will include AI and machine learning, agricultural technologies, social justice, entertainment arts, app development, augmented reality, design and creativity, career preparation, and entrepreneurship tracks.
"Texas College is excited to join this new initiative with the Propel Center," said President Dwight Fennell, Texas College. "We believe our students' introduction to innovative learning will open doors to new career pathways with expanded skillsets that will propel them into cutting-edge positions as tomorrow's leaders. We are grateful for the forward thinking of Ed Farm to create this technologically advanced initiative which embraces the HBCU community."
Students from participating schools will access Propel Center's online digital learning platform from anywhere, and will also have access to the 50,000 square-foot Propel Center headquarters in Atlanta, equipped with state-of-the-art lecture halls, learning labs, and on-site living for a scholars-in-residence program.
"The HBCU community is a tremendous engine of Black creativity, entrepreneurship, and inclusive opportunity," said Lisa Jackson, Apple's Vice President of Environment, Policy and Social Initiatives. "We are thrilled to join with partners and community stakeholders to support the Propel Center and be part of this groundbreaking new global hub for HBCU innovation and learning, devoted to helping faculty create best-in-class curriculum and ensuring students have access to cutting-edge skills."
"We know inequities exist in our society, and it's up to each of us to be more intentional in our efforts to make a difference and bridge the gap," said Tom A. Fanning, chairman, president and CEO of Southern Company. "We know more must be done, and the establishment of the Propel Center is another important demonstration of Southern Company fulfilling our commitment to move our communities to a more equitable future. Partnering with Apple in this initiative is an exciting way to connect future leaders with these critical resources."
"These investments are critical as we begin to truly scale Black innovation ecosystems," said Anthony Oni, chairman, Ed Farm. "By leveraging technology and partnerships to connect students with unique learning opportunities, we can lift up the talent that already exists at these institutions of higher learning and accelerate their development. In doing so, we will have a hand in shaping the workforce of the future — and the leaders of tomorrow."
Additional information on Propel Center can be found at PropelCenter.org.
Texas College Launches Online Store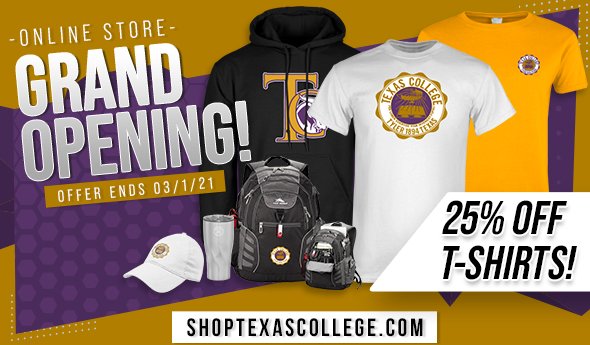 Texas College is pleased to announce the grand opening of the online store! To celebrate, t-shirts are 25% off! To shop now, please click the button below or visit shoptexascollege.com.
Retool Your School 2021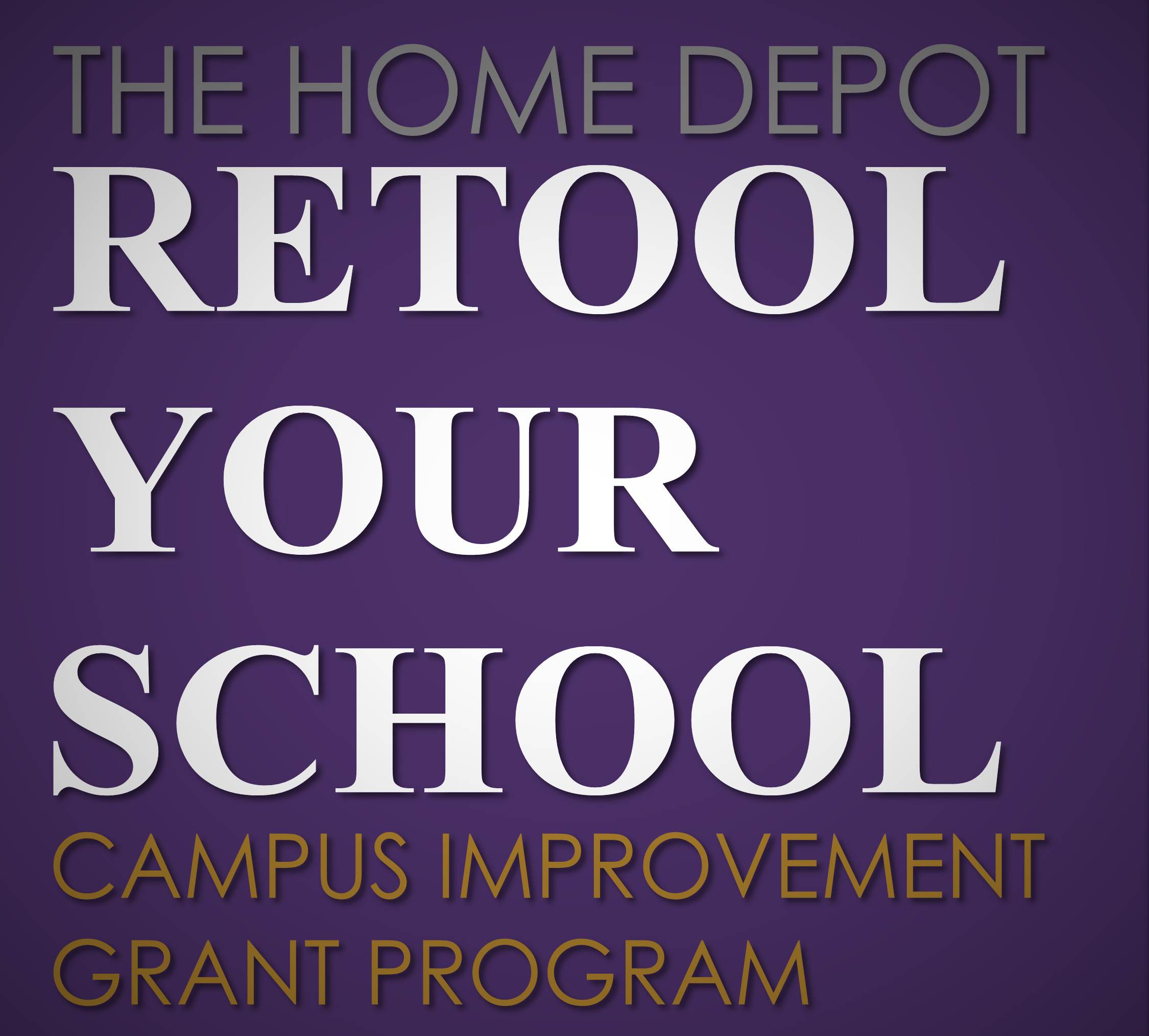 The Home Depot Retool Your School Grant Program is back for 2021! This year, to deepen its commitment to HBCUs, The Home Depot is increasing support by investing $1 million in campus improvement grants across 30 schools. 2021's competition will award 30 different campus improvement grants, 10 awards per cluster (cluster based on enrollment size), ranging between $20,000 - $75,000. These awards will be based on consumer voting.
Voting will take place as it has in recent previous years, via the competition's website and the social media platforms Twitter and Instagram by inclusion of the College's unique hashtag on tweets/posts. The cumulative number of votes received, both from online and social media, will determine the College's ranking. As noted, this year's competition will award the top 10 institutions in each cluster. Historically, Texas College has ranked within the top 10, but still needs your help to ensure a win this year!
Noting previous year's winning vote totals of approximately 500,00 votes, a goal of 600,000 cumulative votes has been set to ensure Texas College's success for 2021's competition. Though this year's voting period is reduced to approximately one month (29 days), this goal is achievable, especially given that votes are unlimited. Broken down, if 100 people cast 207 votes every day of the voting period, 600,300 votes will be secured. Voting begins Monday, February 15, 2021,and ends on Monday, March 15, 2021. Working in close collaboration with the Texas College National Alumni Association (TCNAA), the College and TCNAA both remain committed to winning 2021's competition.
Texas College is already registered for the competition and excited to participate. The College will provide the voting webpage, Texas College's unique hashtag for social media, and additional important information as soon as released. To learn more about The Home Depot Retool Your School Grant Program, please visit retoolyourschool.com. Should you have any questions regarding the Retool Your School competition, please contact:
Jake Martin, Chief Marketing & Communications Officer
(903) 593-8311, ext. 2327 │jmartin@texascollege.edu
National Signing Day 2021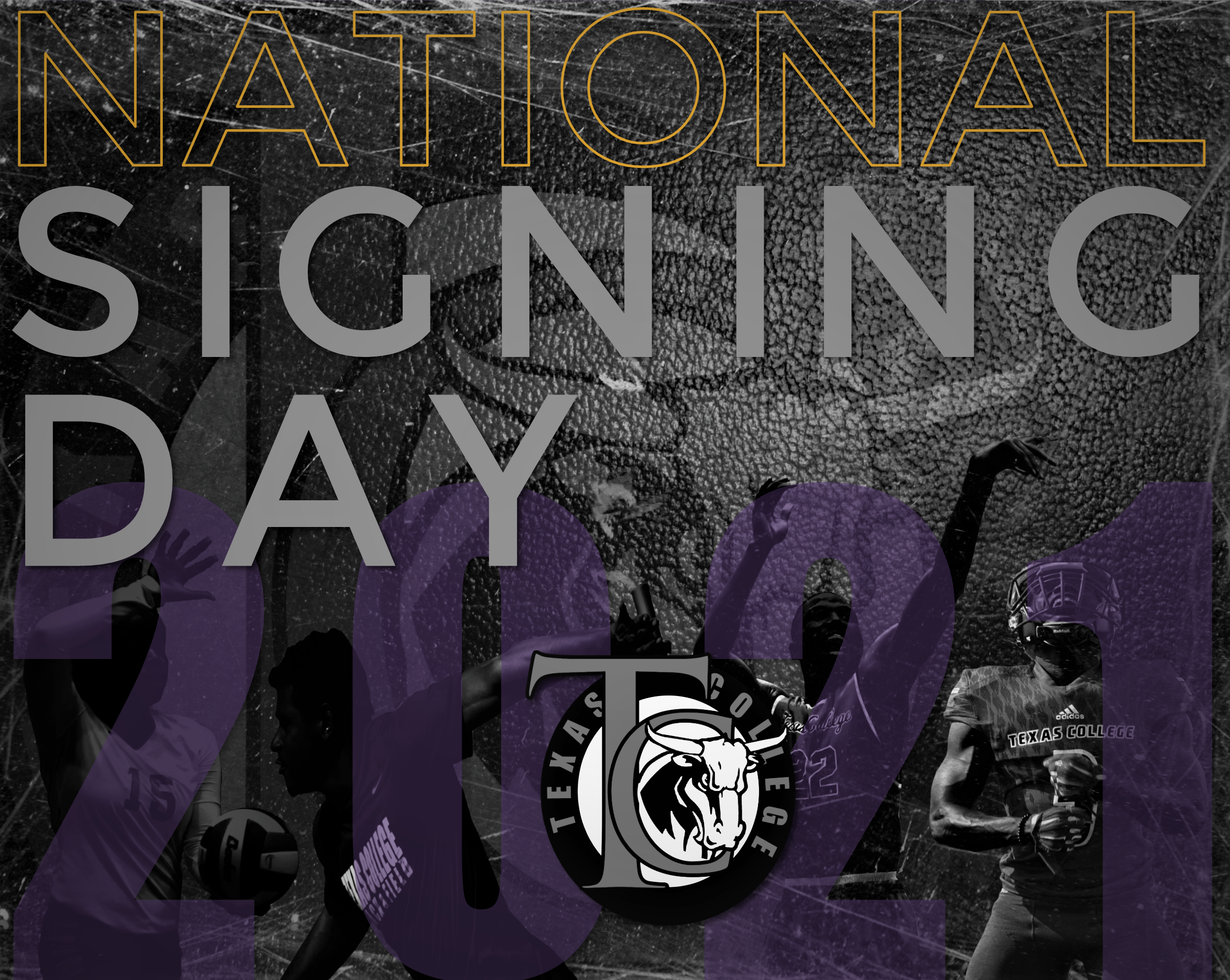 Texas College is pleased to announce that 54 student-athletes committed to furthering their education and athletic career at Texas College on National Signing Day, Wednesday, February 3, 2021. To celebrate the occasion and its significance, Athletic Director and Head Football Coach Greg Ellis shared a special message to those who signed. Please see the video below to view Coach Ellis' message. Please see the list below for each student-athlete. Texas College is excited to welcome each new student-athlete to Steer Country!
Coach Ellis' Message
Student-Athletes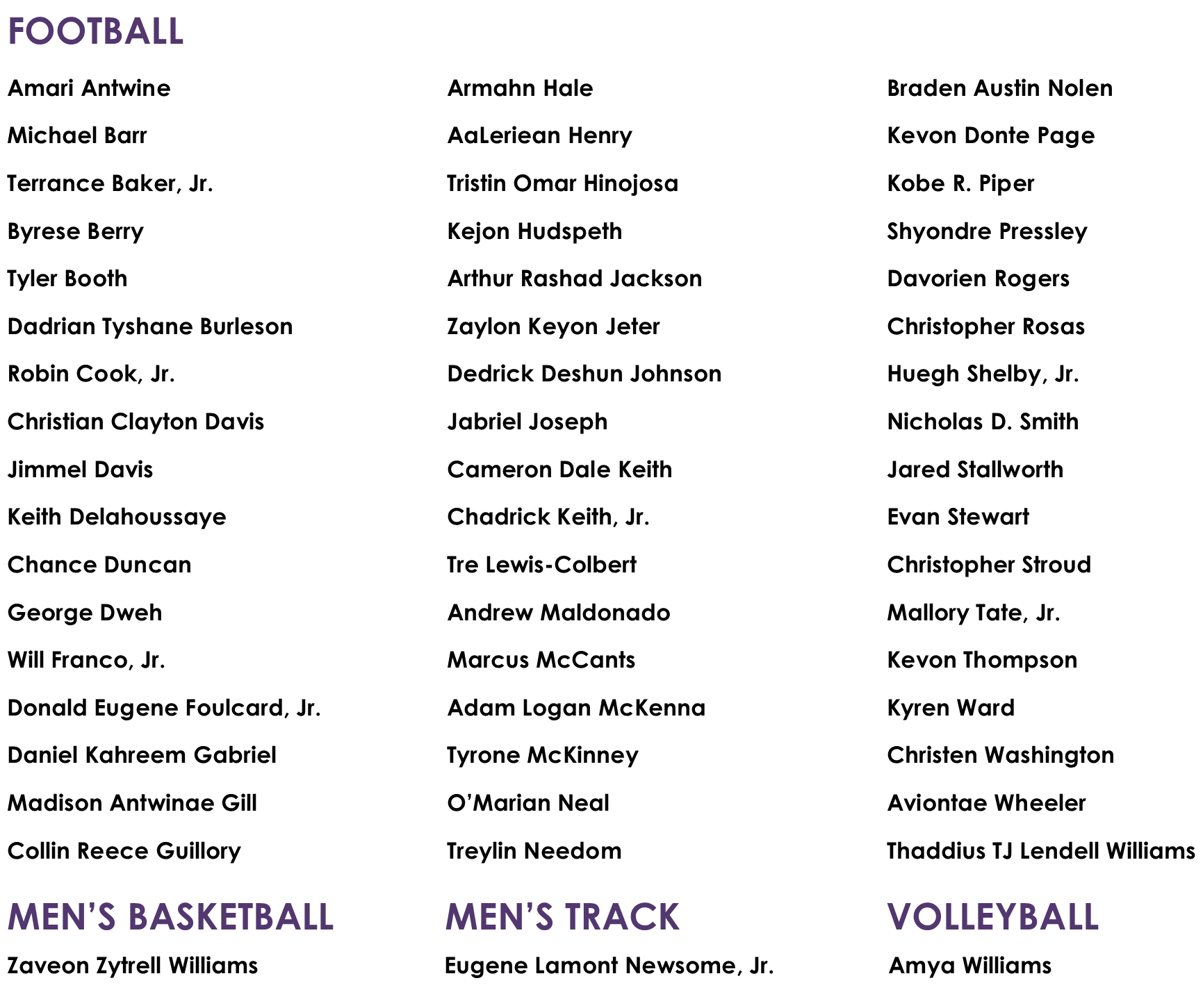 Black History Month
Texas College will celebrate 2021's Black History Month by highlighting a multitude of Black influential figures, or trailblazers, that are also Texas College Alumni or affiliated with the College and have greatly impacted the institution. Every Thursday and Friday throughout the month of February, the College will feature notable individuals on the Texas College website and social media platforms.
Spring 2021 Registration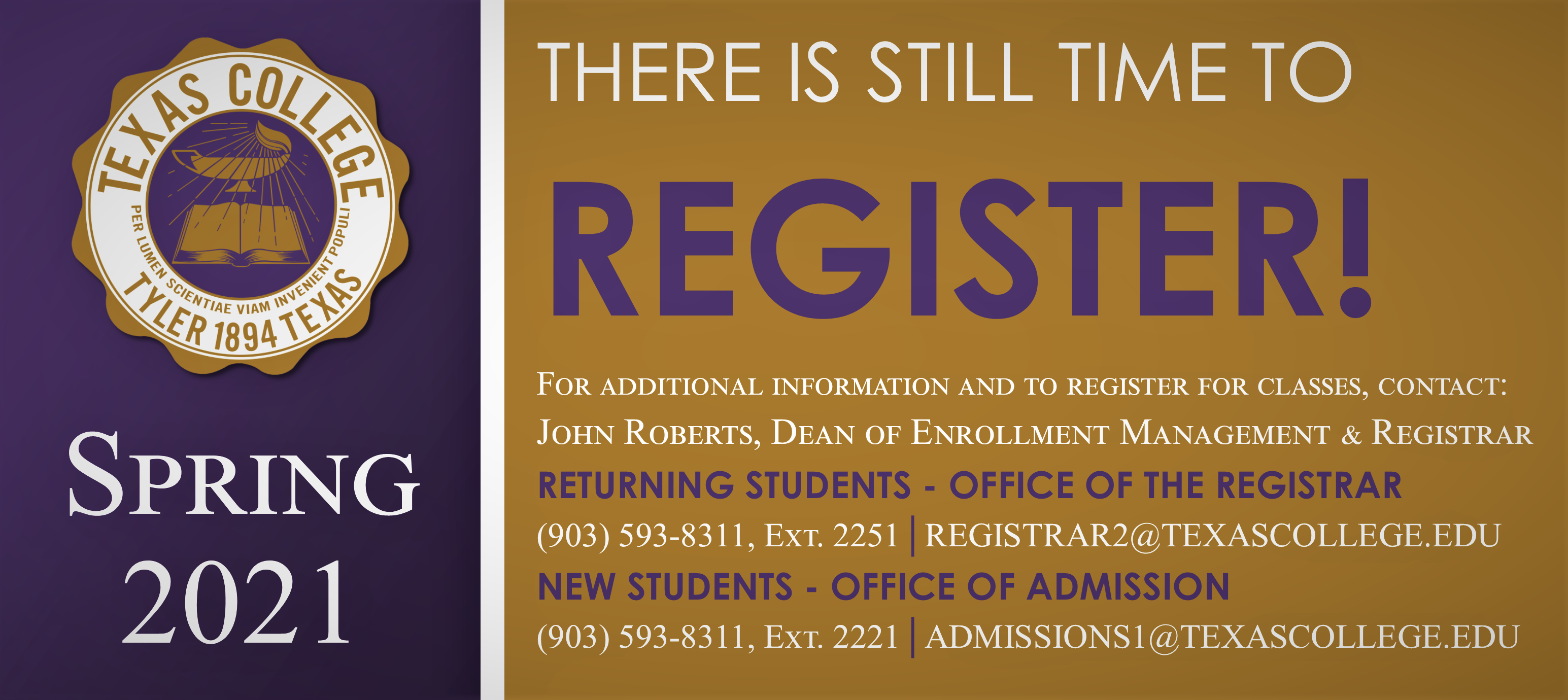 Spring 2021 Information Important Contacts Academic Calendar
Celebrating the Legacy of Dr. Martin Luther King, Jr.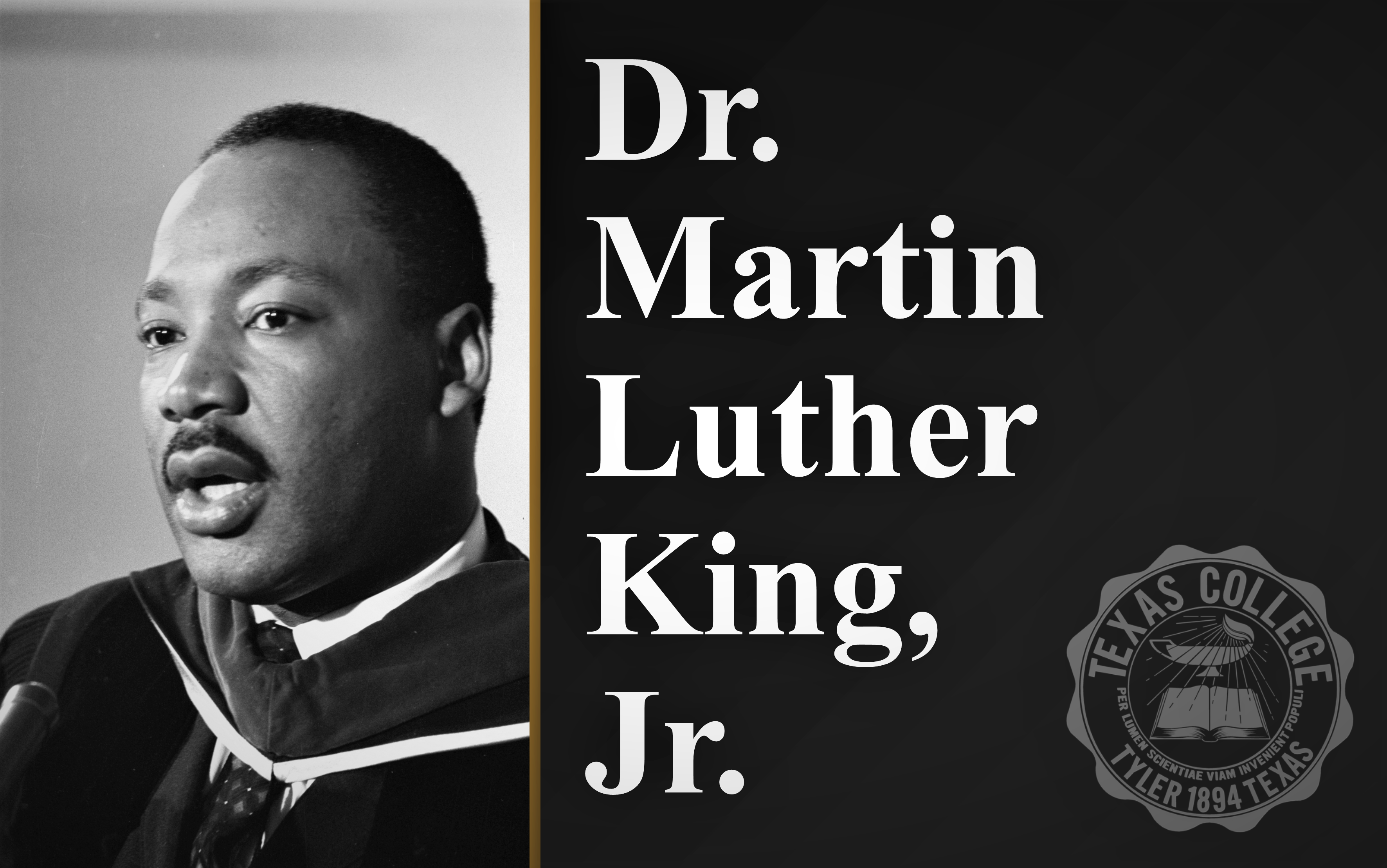 Texas College observed Martin Luther King Day on Monday, January 18, 2021. In observance of Dr. King's legacy, Texas College offices closed and regularly scheduled classes did not meet. To commemorate the occasion, President Dwight J. Fennell provided a special message honoring the life of Dr. King and his monumental contributions to society. Additionally, an excerpt from Dr. King's "The Purpose of Education," was posted. Please see below for both items.
Dr. Fennell's Message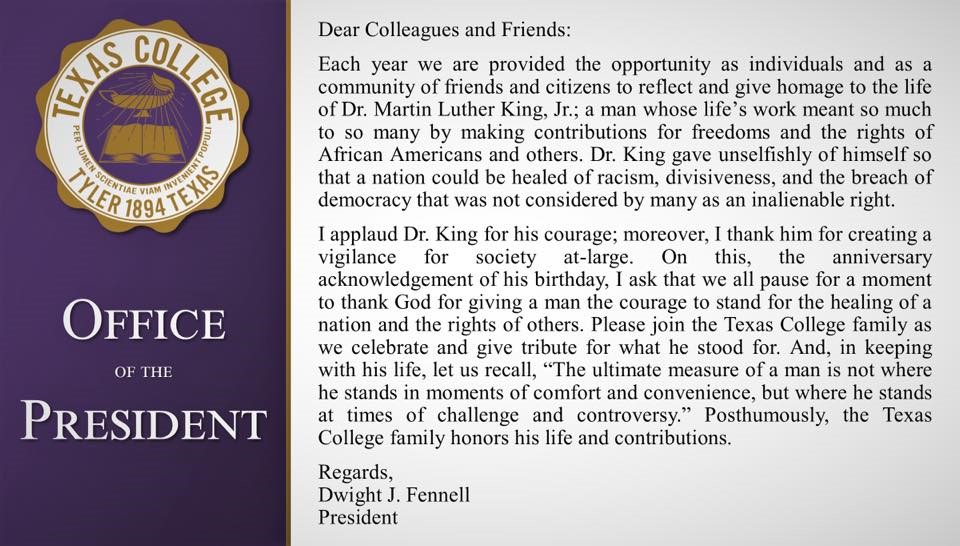 Excerpt from Dr. King's "The Purpose of Education"

The INSIDER - Fall 2020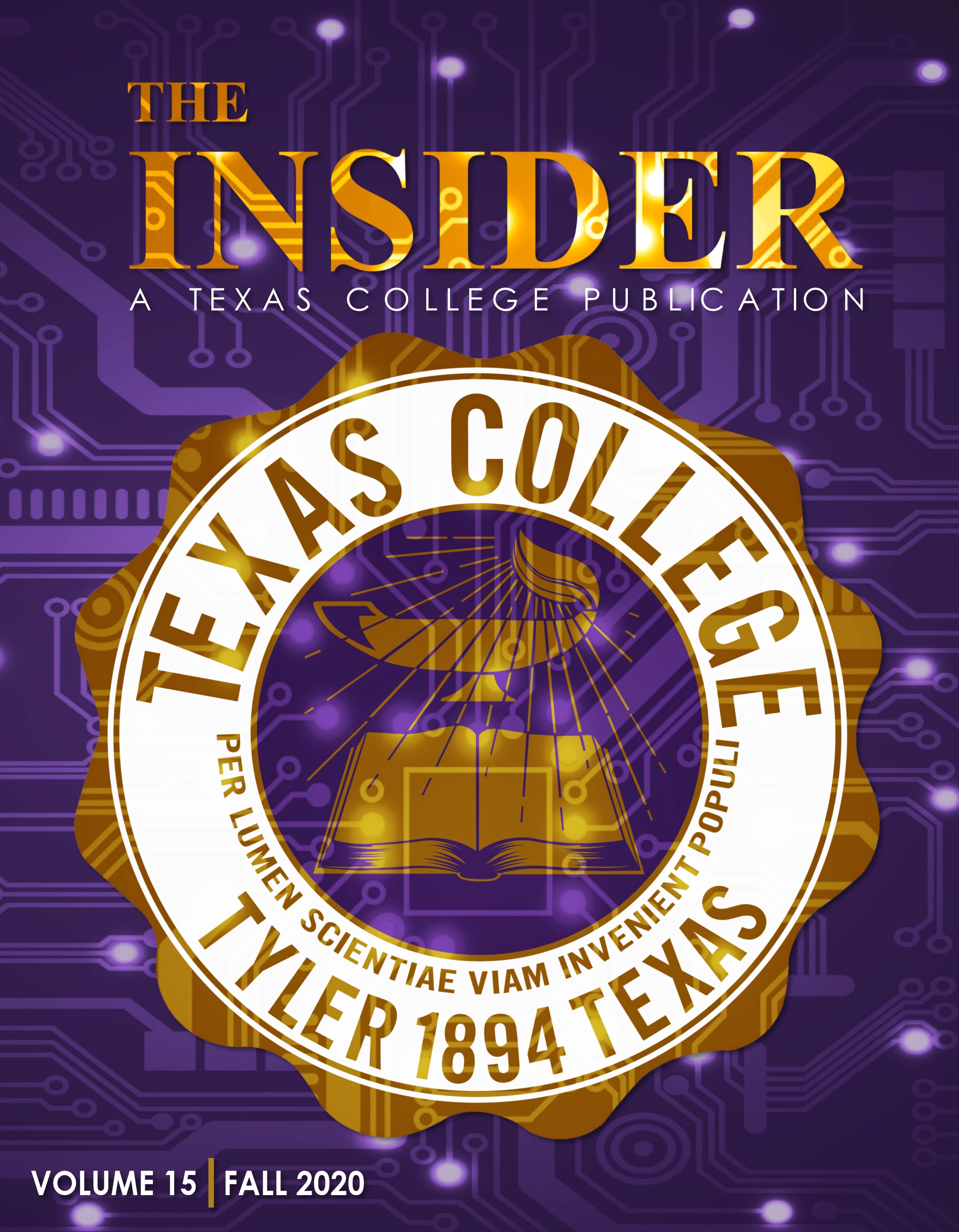 In case you may have missed its release in December, The INSIDER - Fall 2020 is now available. The INSIDER is the biannual magazine published by Texas College at the close of each academic term. Please click the button below to view a digital version of The INSIDER - Fall 2020.
Important Dates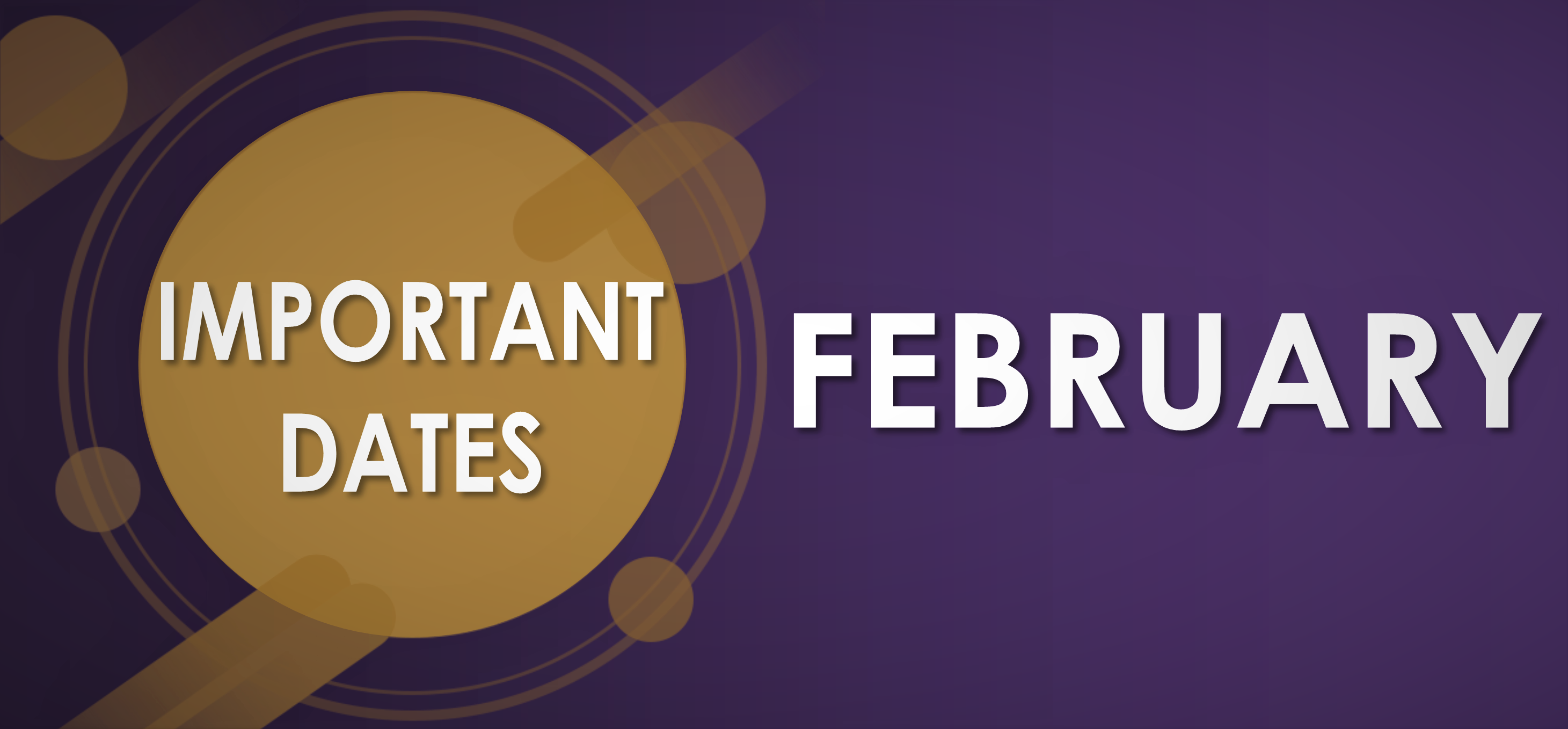 FEBRUARY 2021
February 17
Founders' Convocation
February 21-26
Religious Emphasis Week
February 22-26
Financial Aid Awareness Week