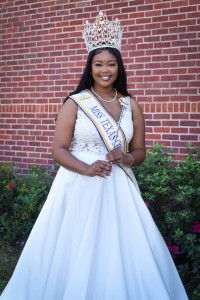 On Thursday, October 12, Miss A'Nayzia Jefferson officially ascended her throne as she was crowned Miss Texas College at her coronation in the historic Martin Hall Auditorium. As the daughter of Ms. Tona Lewis and Mr. Marcel Jefferson, Miss Jefferson hails from Rusk, Texas, and is a member of Temple of Praise Baptist Church.
Miss Jefferson arrived at Texas College by way of the University of Arkansas at Cossatot, where she earned an Associate of Arts degree, as well as served as a student ambassador and member of the Lady Colts Women's Basketball team. Since her arrival at Texas College, she has excelled both in and out of the classroom.
As a 21-year-old lovely, bright, and gifted young lady, Miss Jefferson is a senior, majoring in Criminal Justice with a 3.6 grade point average. She realized at an early age that her calling in life was that of service. Thus, following her graduation from Texas College, she aspires to become a homicide detective, fulfilling her longtime desire for a meaningful career in law enforcement.
As can be observed, she is a phenomenal leader amongst her peers, participating in a multitude of organizations. Miss Jefferson is a proud member of the Texas College Women's Basketball Team and the Texas College Choir, as well as Krimson Kourt, Incorporated. And now, she joins the ranks of campus royalty, donning the Miss Texas College crown.
Miss Jefferson undoubtedly epitomizes the Texas College Core Value of Community Service. She believes that pouring into the community and giving back is vital, as evidenced by her countless hours spent volunteering at local schools reading to students, as well as training students in basketball.
Miss Jefferson's motto is "Let go of who you think you're supposed to be and embrace who you are." She contextualizes this self-worth sentiment, expressing "Trying to live up to everyone else's expectations will drive you to insanity. You are enough!"
Congratulations to Miss A'Nayzia Jefferson, Miss Texas College!