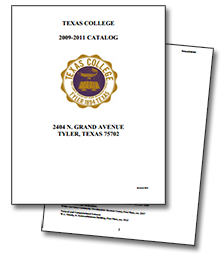 Texas College has made every effort to assure the accuracy of the information in the catalog. Students and others who use this catalog should be aware that policies, rules, procedures and regulations change and that these changes may alter the information contained in this publication.
The college reserves the right to change policies, regulations, fees, and courses of instruction upon direction by the Board of Trustees. The most current and complete information is available from the appropriate campus administrative office. To report errors and omissions, make suggestions for better readability, or offer comments, please contact the Office of Academic Affairs at: (903) 593-8311 xt. 2342.
The Texas College 2014-2017 College Catalog.