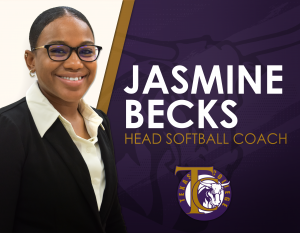 Texas College is pleased to announce that Jasmine S. Becks has been named Head Softball Coach for the Steers. As a 2014 alumna of Texas College, she brings a wealth of experience and expertise in both coaching and playing the game. Coupled with her energetic approach, Becks looks to steer Texas College Softball in a new direction.
Most recently, Becks served as the Head Softball Coach at Huston-Tillotson University in Austin, Texas. Her appointment to this role was historic, as she was the first Black head softball coach in the institution's history. Prior to this role, she served as an assistant softball coach at Prairie View A&M University (PVAMU) in Prairie View, Texas. While at PVAMU, she helped lead the Lady Panthers to a Southwestern Athletic Conference Championship (SWAC) in 2018, as well as a first-time bid to the NCAA Regionals. The following year, she helped to lead PVAMU Softball to a historic 30-win season. Prior to her tenure at PVAMU, she served as an assistant softball coach at Jarvis Christian University in Hawkins, Texas, as well as a volunteer assistant softball coach and volunteer assistant volleyball coach at Texas College.
In addition to her collegiate coaching roles, Becks also served as Head Women's Softball Coach for the RBI Austin Regional Team, 18U Commissioner for the RBI Austin Women's Softball Organization, and as the Head Women's Softball Coach and Head of Player Development and Coaching for the 18U Texas Strike Force-Drake Team.
Throughout her coaching career, Becks has coached two ASBA Professional Athletes to the ASBA Draft, four All SWAC First Team Players, an All SWAC Pitcher of the Year, an All SWAC Tournament MVP, and an All SWAC Second Team Player.
Outside of coaching, Becks also recently served as an ordained minister at Saint Galilee Missionary Baptist Church, Inc., in Coldspring, Texas, under the leadership of Senior Pastor Jocelyn Traylor.
As aforementioned, Becks is a proud magna cum laude graduate of the College; she received the Bachelor of Science degree in Criminal Justice, as well as an Associates of Arts degree from Texas College. During her tenure as a student at the College, she played both softball and women's basketball, as well as earned numerous accolades that include Presidential Scholar, Dean's List Scholar, Women's Basketball Most Improved Player, Softball Defensive Player of the Year, and Softball Offensive Player of the Year. As a student, Becks also served as a valued and trusted leader on the campus as Fellowship of Christian Athletes (FCA) President. She is also a member of the Alpha Sigma Criminal Justice Honor Society.
Her knowledge of the game, enthusiasm, and expertise is sure to inject exciting new life and a competitive edge into the softball program. Texas College excitedly welcomes Jasmine Becks home.
MESSAGE FROM COACH BECKS