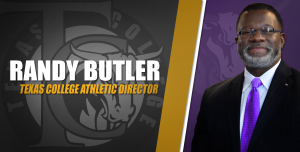 Texas College is pleased to announce that Randy Butler has been appointed as Athletic Director for the Steers. Butler, a proud alumnus of Texas College, eagerly looks forward to serving his alma mater as he steers the College's intercollegiate athletic programs in a new direction.
Aside from his tenure as a student, Butler is no stranger to Texas College, nor this role, having previously served as Athletic Director from 2012-2013. In addition, Butler has served in a multitude of administrative roles for the College within the Office of Admission and the Office of Financial Aid, and even coached running backs for the Steers. Now, heading into the 2022-2023 seasons, he aims to pick up where left off.
Butler is an East Texas native and alumnus of Chapel Hill High School. He holds the Bachelor of Science degree in Business Administration from Texas College. Butler is also a proud Veteran of the United States Navy.