Celebrating the Legacy of Dr. Martin Luther King, Jr.
Texas College will observe Martin Luther King Day on Monday, January 18, 2021. In observance of Dr. King's legacy, Texas College offices will be closed and regularly scheduled classes will not meet on this day. Regular operations will resume Tuesday, January 19, 2021, at 8:00 A.M.
Please see below for an excerpt from Dr. King's "The Purpose of Education," as well as a special message from President Dwight J. Fennell honoring the life of Dr. King and his monumental contributions to society.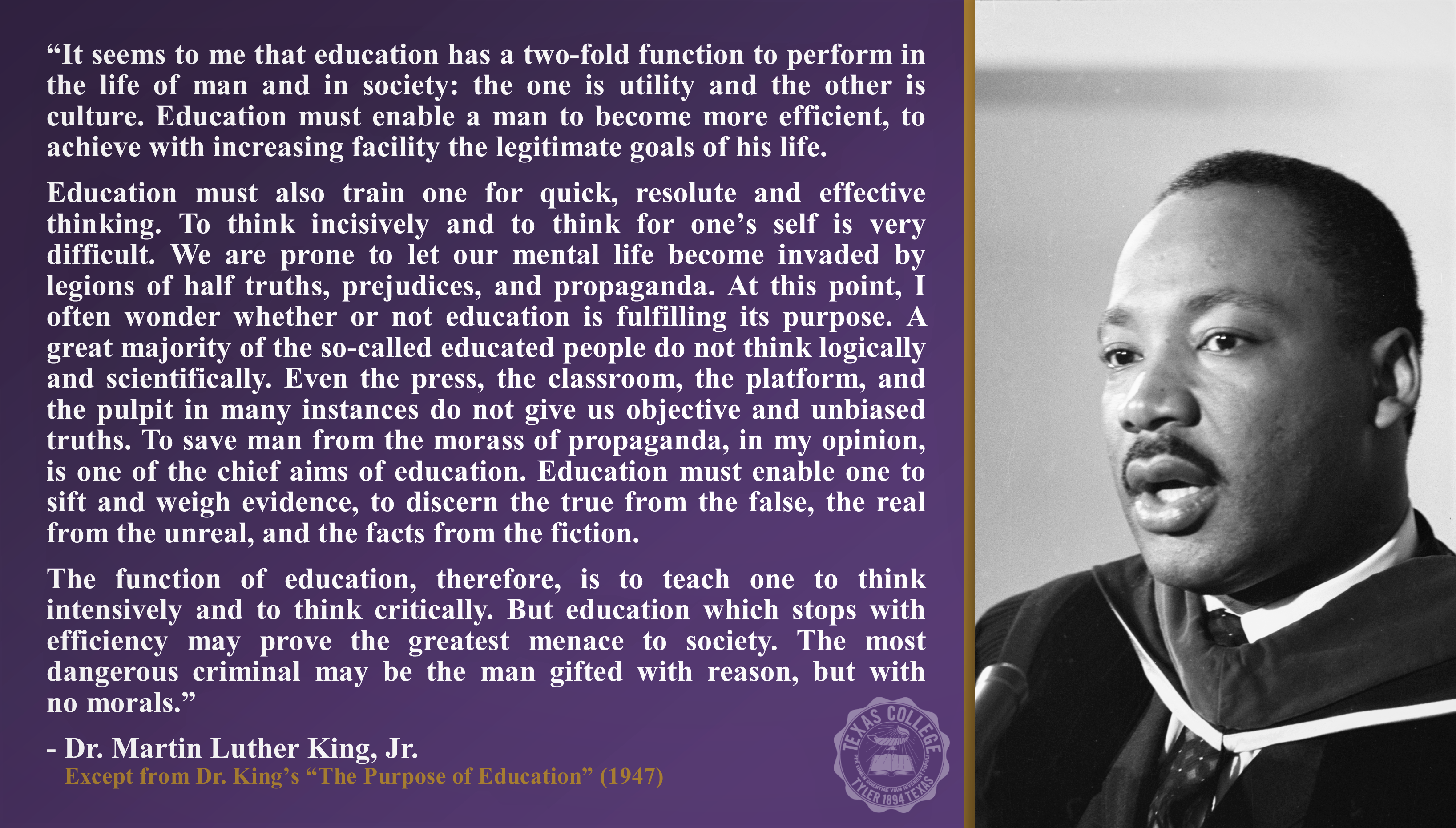 Dear Colleagues and Friends:
Each year we are provided the opportunity as individuals and as a community of friends and citizens to reflect and give homage to the life of Dr. Martin Luther King, Jr.; a man whose life's work meant so much to so many by making contributions for freedoms and the rights of African Americans and others. Dr. King gave unselfishly of himself so that a nation could be healed of racism, divisiveness, and the breach of democracy that was not considered by many as an inalienable right.
I applaud Dr. King for his courage; moreover, I thank him for creating a vigilance for society at-large. On this, the anniversary acknowledgement of his birthday, I ask that we all pause for a moment to thank God for giving a man the courage to stand for the healing of a nation and the rights of others. Please join the Texas College family as we celebrate and give tribute for what he stood for. And, in keeping with his life, let us recall, "The ultimate measure of a man is not where he stands in moments of comfort and convenience, but where he stands at times of challenge and controversy." Posthumously, the Texas College family honors his life and contributions.
Regards,
Dwight J. Fennell
President