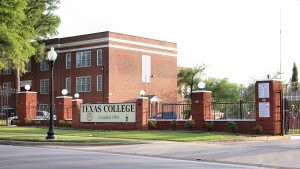 Dear Alumni and Friends of Texas College:
We realize that these are unprecedented days and are praying for you and your family in all areas of your life—physically, emotionally, spiritually, socially, and financially. Specifically, we are praying Psalm 91; Psalm 103:1-5; Philippians 4:19; 2 Timothy 1:7; and 1 Peter 5:7 for safety and protection.
At this time, I am writing to keep you apprised of measures that are being undertaken by Texas College during this period of the Coronavirus (COVID-19) pandemic. You are perhaps aware that the influences of this virus and potential for transmission of it comes with uncertainty about how it transcends, as well as uncertainty about the tenure of its existence. And, because of such uncertainties, the college must adhere to federal, state and local mandates as well as operate with wisdom and security measures for those we serve and those who are stakeholders of the college.
In consideration of the aforementioned, kindly note that effective immediately, Texas College has:
Moved to online delivery of classes for the remainder of the spring semester. Determinations about future options for the summer and beyond will be in keeping with federal, state and local requisites;
Moved to social distancing requiring all students who remained on campus from the extended spring break must return home for the remainder of the school year. And, those who have yet to return from the spring break cannot do so until a specified date/time has been determined. The college will post such information on its website and email students through their Texas College portals to keep them apprised;
Moved to create options of safety with all campus events and activities for the remainder of the school year being suspended/cancelled. This includes: Honor's Convocation, Athletic Banquet, Baccalaureate service and Commencement. Pursuant to the latter, students who meet graduation requirements after successful completion of online courses will receive their diploma and regalia by U.S. mail. These students will also be invited to participate in the Commencement exercise for the subsequent school year;
Moved to have students re-enroll for the summer session for continuation of classwork or to expedite their programs; all course offerings will be on-line. There will be no campus-based activities for the 2020 summer session;
Moved to using the Texas College website and email system as a primary means of communications. The work day has been abbreviated during the hours of 10 a.m. until 2 p.m. with staffs having the option to work remotely. There will be no visitation, tours, etc. during this period.
Thank you for your understanding and support of the new measures that Texas College must take to sustain a safe environment. Please be safe!