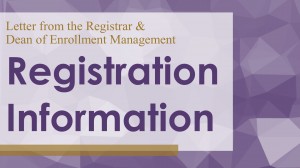 Letter from the Registrar & Dean of Enrollment Management
To view letter in a PDF format, click here.
2020 Fall Registration
Dear New and Returning Students:
Welcome to Texas College and the start of the fall term 2020! We are excited about the year and await your arrival. This year will be somewhat different since all of our course offerings will be online. Classes will begin August 12, and we will officially begin the registration process next week. To assist you with the process, we are offering online assistance as well as administrative assistance by staff who can help you (if and when needed). Please be sure to note the following:
Admission
What makes a student fully admitted?
Completion of the admission application
Submission of high school (Transcripts from all institutions/colleges attended are also needed, if applicable;
Submission of the Texas College Medical Form (to be completed by Physician): this also includes the meningitis record within the last five years; and
Payment of the $20 application fee, unless otherwise informed.
Note: Once the above information is received, the College will send an official admission letter; this means you are fully admitted.
Financial Aid
What makes the financial aid process complete?
Completion of the free FASFA application with Texas College code 003638
Once we receive your completed (FAFSA application), you will be notified via your Texas College and/or your personal email of award eligibility or the need to submit additional documentation. Processing of files can take up to 5 days, once all items has been completed by the student,
Unless SAR is rejected, and requires corrections or you are selected for verification, students will receive an award notification, indicating the estimated awards and types of aid the student is eligible for from Texas College.
Receipt of an "Awards Letter" from the Office of Financial Aid. The letter allows you to complete your Business Office responsibilities. If financial aid awards do not cover the total cost of tuition and fees for the term, the student is required to secure payment arrangements with the business office.
Course Registration
What are the steps for registering for classes online?
Review of the "Degree Plan" for your major;
Review of the Course Schedule for the semester
Completion and submission of the online registration form
Note that once the registration form has been successfully completed, an acknowledgement letter will be sent by the Office of the Registrar. Your course schedule for the semester however will be sent to you by the Business Office once your courses have been fully processed.
We will be sending additional registration details your way in a short while. Thank you for being with us. Have a great semester …Go Steers!
Sincerely,
John J. Roberts
Dean of Enrollment Management & Registrar