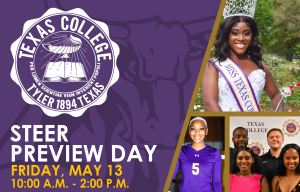 Texas College excitedly invites you to Steer Preview Day on Friday, May 13!
Learn why Texas College is the right college and the right fit for your educational pursuits with this engaging and dynamic opportunity filled with information and fun.
For more information, please review the graphic below. Interested in applying before you arrive? If so, click here!
See you on Friday, May 13!