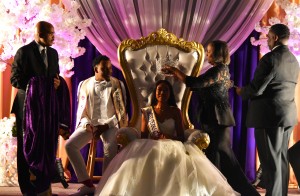 Relicia Morrison, 21, of Oklahoma City, was crowned Miss Texas College 2018 - 2019 during the annual coronation ceremony on Wednesday, October 24, 2018. The ceremony took place in the Gus F. Taylor Gymnasium with CBS 19's Tashara Parker serving as the mistress of ceremony. Included in the campus queen's court were 34 different student organizations.
Morrison, a music major, excitedly begins her reign and plans to use the position to promote outreach projects that are close to her heart. Projects she has in mind include providing local underprivileged families with Christmas gifts and helping bring activist and motivational speakers to campus for various activities.
Morrison said she wanted the experience of attending a historically black college or university and felt at home when she first visited Texas College. Upon her arrival, she quickly became interested in the crown. "I thought Miss Texas College was amazing; she carried herself very well and embodied exactly what an ambassador should be. The crown itself carries such a rich tradition and history, not only at Texas College, but at all HBCUs," Morrison said.
Morrison is a senior at Texas College and a member of the Texas College Concert Choir. Following the completion of her baccalaureate degree, she plans to pursue a master's degree in music composition. Upon completion of graduate school, Morrison aspires to become a music producer and songwriter.
---